24th September 2020
By late March, the COVID-19 pandemic had triggered a UK-wide lockdown and Aspect member institutions had likewise moved to remote learning and support for students. Almost overnight, campuses were disbanded, with students and staff urged to return and stay at home. The pandemic forced an unprecedented leap into remote learning and working from home. This leap includes support for entrepreneurship. Aspect member institutions serve a critical role in supporting entrepreneurship of students, researchers and alumni at their respective universities, through early stage incubation, funding support and partnership formation.
In this article, Wen Chen, LSE School of Public Policy, and LJ Silverman, Head of LSE Generate, share the learnings from a workshop with Aspect members which focused on LSE's approach to developing a holistic virtual entrepreneurship hub.
Funded Project:
Entrepreneurship Workshop Series & Mini- Projects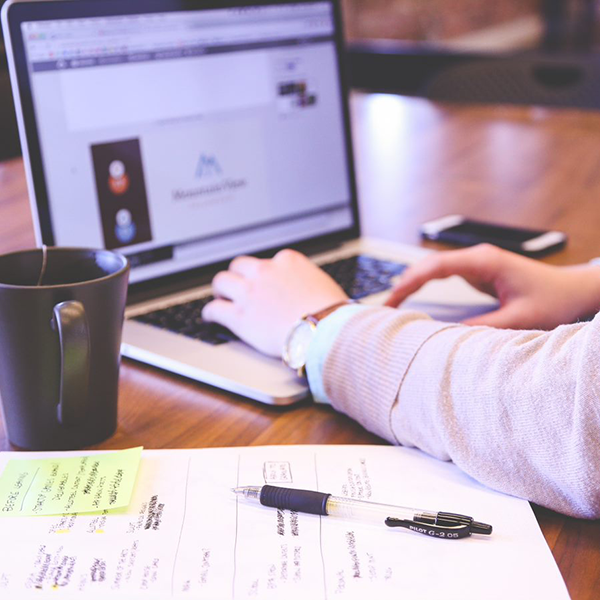 Arguably, early stage entrepreneurship, with little to no funding on hand, is one of the hardest hit areas in a pandemic that has shut down major economies around the world, leaving private investors wary of taking on risky bets. On the other hand, public investment—that is, by the government—is stepping up, whether directly through start-up support packages or indirectly through rapid response business innovation competitions. On the other hand early stage startups are nimbler and have little to lose from pivoting their business in light of the changed global circumstance and business climate. Therefore, it is a critical moment for university entrepreneurship hubs to provide support for early stage entrepreneurship during this momentous time.
Developing a virtual entrepreneurship hub
It is within this context that the London School of Economics, an Aspect member institution, led a knowledge sharing Q&A session with other Aspect members to discuss what they had learnt in this area and, within this, shared how they have developed a holistic virtual entrepreneurship hub. We outline what this hub looks like and how they have been able to adapt to a system of remote support for entrepreneurs.
1. Shifting the narrative from growth and acceleration to survival and founder wellness.
In light of the changing global context, LSE's entrepreneurship hub quickly adapted its narrative to one focused on start-up survival and founder wellness. This narrative change has been important for managing expectations and supporting the mental health of student entrepreneurs.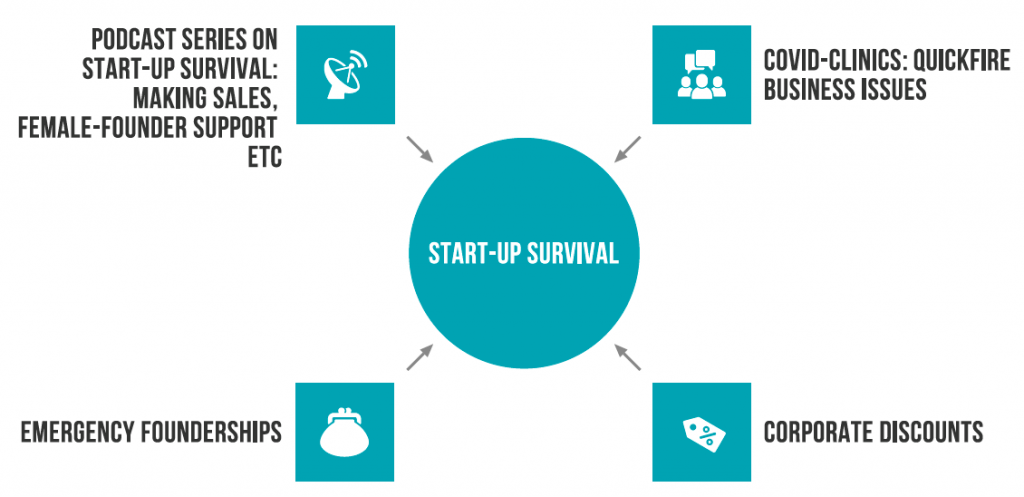 To support start-up survival, LSE is creating an Aspect-funded podcast series (launching in Autumn 2020 on the Aspect website) on start-up survival on a wide range of topics, established emergency funds for founders, started daily COVID-Clinics that offer quickfire chats on business issues and offered corporate discounts on productivity software. To support founder wellness, LSE has focused on mental health and community engagement to address the context of extreme uncertainty and physical isolation. Mental health support has included Zoom mindfulness and breath work sessions led by an LSE alumni entrepreneur and community engagement has included the launch of 'Generate Unplugged'—featuring local musicians through a weekly virtual concert series to bring student entrepreneurs together in a social setting.
2. Incorporating digital resources into core programme.
LSE embraced an array of digital resources to adapt its entrepreneurship hub to provide remote support. They have moved masterclasses to the digital front and expanded their podcase series, which includes interviews with founders and community and thought leaders on a wide range of topics on building businesses and leadership. Social media applications are used to drive engagement with students and alumni, whether that involves generating awareness of programming, obtaining feedback from students and alumni or creating new partnerships. See Box 1 for a discussion on selected digital resources.
---
Box 1. Digital Resources Spotlight
LinkedIn: LSE shared that LinkedIn has been very useful for identifying and connecting with alumni who are enthusiastic about offering their time and expertise to help student entrepreneurs. With the vast international network of alumni, the LSE entrepreneurship hub has been able to tap into invaluable resources for programming development and implementation. Alumni help to run digital masterclasses, serve as judges for funding competitions, become mentors to students, pave introductions to investor networks and corporate partnerships and more.
Instagram Live Q&A: To combat 'Zoom fatigue', it is important to change up formats of digital engagement. Instagram Live Q&A offers a good alternative to engage and respond to students in real-time. LSE offers a weekly Instagram Live Q&A session with students and founders.
Notion Platform: LSE has been using the Notion platform for internal knowledge-base management and external information sharing as it is developing a vast body of knowhow on building and running a virtual entrepreneurship hub. An example is LSE Generate's SOS Guide on 'Innovating during uncertain times'.
Airtable: Airtable has been helpful for data management and CRM, allowing LSE to maintain a user-friendly database of experts and alumni to offer workshops, panel discussion and mentorship.
Zoom: Zoom has been useful for hosting virtual meetings, conferences and informal gatherings. Zoom breakout rooms offer small group interactions and Zoom analytics allows LSE to capture user engagement key performance indicators (KPIs) to measure programme reach and engagement.
Hopin: Hopin is a virtual event hosting and management platform.
---
3. Providing guidance and resources on agility and opportunity.
For entrepreneurs, a problem can become an opportunity. LSE has supported entrepreneurs that have been able to pivot their business in response to COVID-19 by running COVID hackathons and funding competitions. The entrepreneurship hub has also encouraged students to think in terms of a 'portfolio career' to be able to manage business shocks with resilience, meaning that aside from pivoting one's start-up, founders can also consider if their personal skillset can be applied to a career outside of the start-up to help weather the downturn.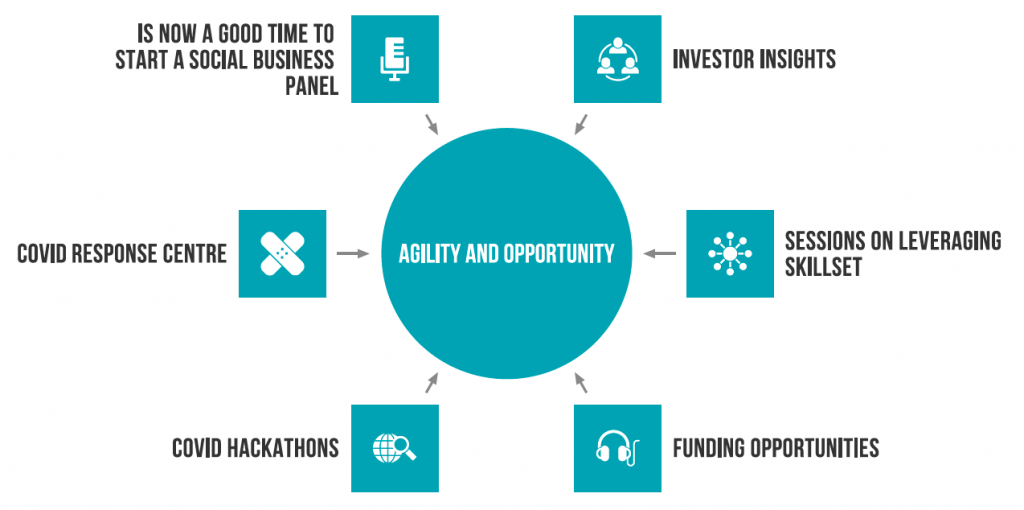 ---
Box 2. LSE Virtual Accelerator Spotlight
The start of lockdown immediately preceded the planned launch of LSE's inaugural accelerator programme. As a result, the programme rapidly pivoted into a virtual format and launched as a 'Virtual Accelerator'. In making this pivot, the programme faced three key challenges.
1. How to build a community when a cohort had never met?
2. How to adapt the teaching and logistics to online?
3. How to measure engagement and success?
To help address the community problem, programme created 'virtual coffees' wherein the Accelerator participants are matched one-to-one each week for the duration of the programme, such that at the end of 6 months, everyone would have had a chance to meet one another in an informal context. In addition, during the bootcamps and workshops, breakout rooms are used in Zoom, to encourage small group discussions and hands-on work. Moreover, online discussion among the cohort continues on the Slack messaging platform.
In adapting teaching and logistics to online, the programme learned that it is important to mix up the formats of content delivery to maintain interest and engagement from participants. For example, not all learning sessions needed to be delivered via Zoom, nor in real-time. Instead, sometimes, pre-recorded podcasts or Instagram Live Q&A are used. Moreover, since students have been disbursed from campus and often returned to their home countries during the lockdown, it is important to have flexibility in accessing the sessions, including recording any material, such that participants can access at their convenience.
To measure and engagement and success, the programme has embraced the analytics provided through the digital tools. For example, Zoom provides details of user attendance in sessions and also information such as whether the user turned on their video and for how long. These analytics help to measure cohort engagement in the programme. Community engagement is further measured on Slack. Slack shows indicators such as weekly active members and members who post. Sustained growth in these metrics in the first few weeks shows improved community engagement online.
---
Recommendations
In a very short amount of time, LSE has been able to adapt its entrepreneurship hub offerings to supporting entrepreneurs remotely. They were able to achieve this by embracing rapid and continuous iteration and learning, which have become key principles of entrepreneurship. However, through this process, LSE has also learned that there are fundamental limitations to remote support and the community aspect of an in-person support hub is nearly impossible to re-create, virtually. When considering adapting entrepreneurship support virtually, Aspect membership institutions offer the following recommendations.
Ask about WHY the programmes or events are being run and work backwards to map out the most effective means of delivering the vision, virtually.
Consider the holistic impact or value of the suite of support offerings.
The most effective means of remote offerings may NOT be direct translations of in-person support offerings.
Be creative and brave with trying new things.
Solicit ideas and suggestions from students and alumni—build an environment of co-creation.
Importantly, these insights are being built into the Aspect Social Sciences Student Accelerator programme, and hopefully all Aspect members will be able to apply them in their own institutions.
Conclusion
As global contexts continue to change, entrepreneurship hubs must respond and adapt not only in the workflow and support delivery infrastructure, but also in communications and content.The context of the COVID-19 pandemic and subsequent lockdown in the UK in March 2020 led LSE Generate to quickly adapt their support offerings to a virtual format and also change their communications to LSE entrepreneurs to focus on start-up survival and founder wellness. Moreover, specific COVID support was created in the form of LSE founders sharing lockdown stories around the world and daily COVID clinics, which proved popular.
Aspect is organised into cross-institutional, cross-disciplinary communities, designed to capture and share knowledge across four core areas of practice. The Entrepreneurship Community of Practice meet regularly, to share knowledge and expertise, and identify opportunities to support student entrepreneurship and start-ups from the social sciences.
To find out more about the Entrepreneurship Community of Practice, or to find out more about joining Aspect, visit our Get Involved page.
---
Photo credit: Pexels
---