Reflecting on the Methods for Change Showcase Event
Back
Resources
3rd June 2021
On 12th May 2021, The Methods for Change Showcase Event brought together academic contributors from the Methods for Change project with professionals from policy, charity, business, and creative sectors. Through a series of interactive panels, together we unpicked the importance and opportunities for social science methods to create change in a variety of different ways. We hope that the event will help to galvanise this community of researchers, working in diverse settings and institutional contexts, to invoke transformational change through social sciences methods.
Funded Project:
Methods for Change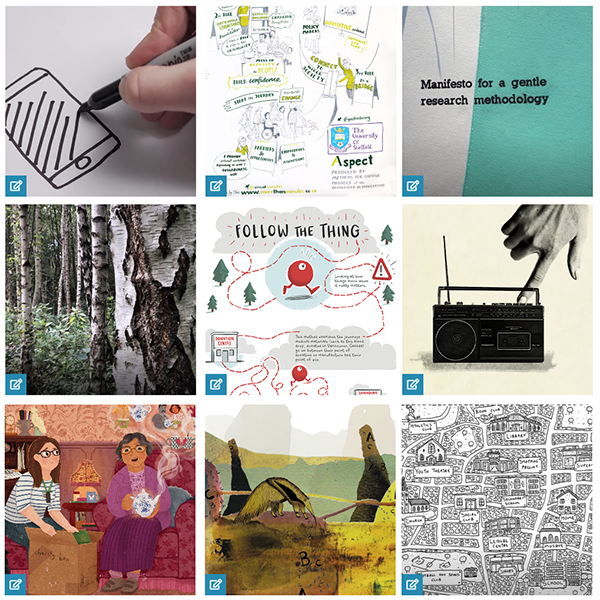 The day began with the 'Creative Methods Zoo', chaired by Dr Laura Pottinger and co-hosted by Jennie Middleton (University of Oxford), Sawyer Phinney, Penny Tinkler and Stephanie Sodero (The University of Manchester). Early Career Researchers were invited to think creatively about the methods used in their research in this networking event, which asked: If your research method were an animal, what would it be? Participants met contributing academics from the Methods for Change project and shared their 'method animals' in small group discussions. A range of animals and methods were discussed, from cats as ethnography, a colossal squid as qualitative mixed methods, bees as diary-based approaches, and a magpie as playful, interdisciplinary digital methods. One participant commented that thinking about community mapping through the metaphor of an octopus allowed her to think freely and reflect on how her own values as a researcher shaped how she approached her method. Another noted that this task 'animated' their research method, enlivening it at a time when the research felt jaded.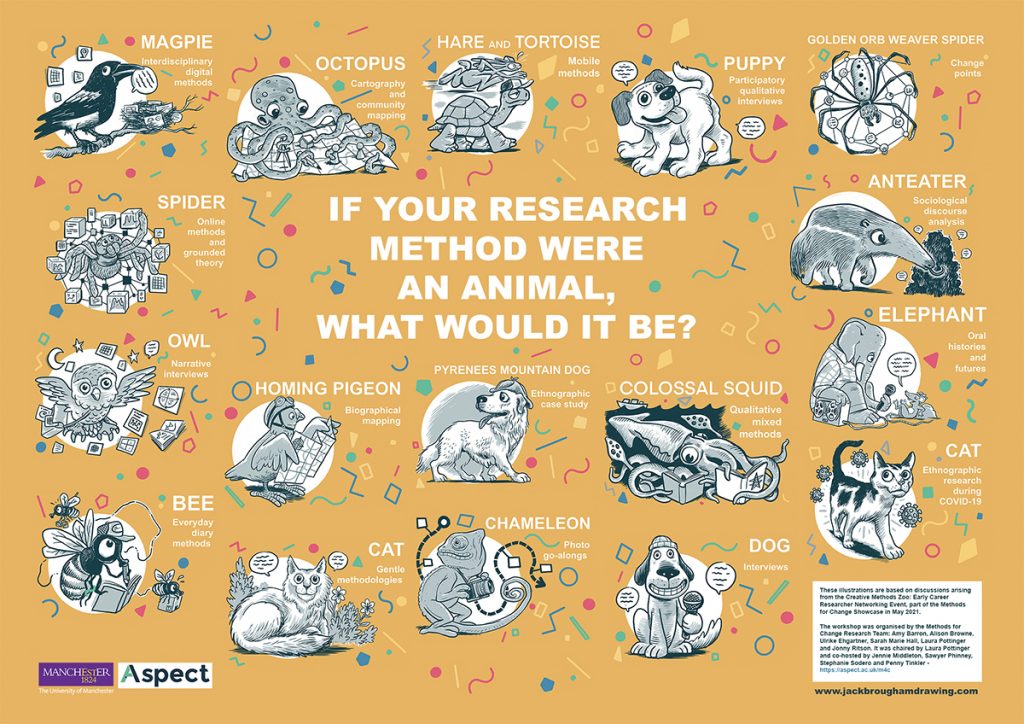 Image: Animals from the Creative Methods Zoo, illustrated by Jack Brougham
Next up was Panel 1 on 'Transforming Communities' in which Dr Amy Barron (The University of Manchester) [ ], Dr Jenna C. Ashton (The University of Manchester), Dr Megan Blake (The University of Sheffield), Julie McCarthy (The Greater Manchester Combined Authority) and Jon Hutchinson (Groundwork) explored the role of social science methods in understanding, exploring, and moving forward with communities. In the discussion, panellists reflected on how working with academics can help to provide a moral rather than a political reasoning for why research is valid. Some of the tensions and challenges of collaboration were highlighted, including working to different timescales and access to resources. It was agreed that there are structural barriers to fostering community change, and that this often stems from funding bodies wanting to pin-down the impacts and outcomes of research before it has taken place. Often the most productive community-based research is adaptive, responsive, and participatory, working from the ground-up.
In Panel 2, 'Social Science Methods for Environmental Change', Dr Alison Browne (The University of Manchester), Dr Carrie Wilkinson (PhD researcher, School of Geography and Sustainable Communities, University of Wollongong and Project Officer, Bushfire Risk and Evaluation Unit, National Parks and Wildlife Service, Australia), Dr Beth Brockett (Senior Specialist – Behavioural and Social Sciences, Natural England), Dr Joanne Tippett (The University of Manchester) and Dr Matt Watson (The University of Sheffield) explored the role of social science and social science research methods in understanding, exploring, and addressing complex socio-environmental change. Discussion revealed how there is often a bias towards quantitative methods beyond the academy, and that it can take a long time to convince people to do things differently and take risks. However social science is currently 'having a moment' in natural environment sectors. There is clear appetite to work across sectoral boundaries and to use the interesting and creative skills social science academics have (qualitative and creative methods, such as video and film) to understand environmental change. Key points emerged about social scientists putting in the time for dissemination and co-production methods in their research project timelines, and how important it was for social scientists to be present in environmental organisations' decision making processes (advisory panels, hiring committees).
In Panel 3, 'Methods to Explore Socio-Economic Inequalities', Dr Sarah Marie Hall (The University of Manchester), Dr Sara Reis (The Women's Budget Group), Mr Patrick Myers (Department for Work and Pensions), Dr Lucy Jackson (Sheffield Methods Institute) and Prof. Jude Robinson (University of Glasgow) considered the question: what role can social science methods play within and beyond the academy in articulating and addressing socio-economic inequalities? Q&A revealed how the best approaches often combine qualitative and quantitative methods as they often have different foci but can shine a light on the same dimensions of social inequality, allowing a fuller picture to be seen. The significance of social science methods for highlighting the lived experiences of inequality were also foregrounded.
Panel 4, the 'Creative outputs Exchange' was chaired by Dr Ulrike Ehgartner (The University of Manchester). In this session, artists, creatives, and academics involved in the Methods for Change project engaged with the following question: do some artworks and artforms work better with communicating social science research, methods and outputs? Participants included Visual Anthropologist Alastair Lomas (The University of Manchester), Artist and Printmaker Nell Smith, Illustrator India Joseph, Prof. Nik Brown (University of York), Dr Cheryl McGeachan (University of Glasgow) and Prof. Stephen Linstead (University of York). India and Nell highlighted the importance of academics having a clear and concise idea of what they want an artwork to communicate, but to then have the confidence to trust the artist to realise that idea. Panellists also reflected on the therapeutic potential of creativity in research communication. Alastair discussed his experience of creating a video for Cheryl to accompany her How To Guide on Geographical Biography. Through the process of making the creative output, Alastair was able to immerse himself in Cheryl's research by listening to a song created by participants, crafting and recreating a carved stone head which had featured heavily in Cheryl's work.Another exciting part of the Methods for Change Showcase Event was the Postgraduate Methods 
Gallery. Posters detailing a fascinating range of social science methods and topics, created by postgraduate researchers from Aspect institutions currently feature in the gallery. The winning posters are titled:
'Reimagining Methods' (Poppy Budworth)
'Narrative Interviewing' (Sawyer Phinney)
'Systematic Review' (Regina Boini)
'Community-based and process-oriented mapping practices' (Heather Miles)
'Padlet as a way of doing diary methods during a pandemic' (Junyan Ye)
'Water Security, Peace, and Fragility in Liberia: An African Ecofeminist Approach' (Chantal V. Bright).
Each of the winners is offered the opportunity to work with one of the Methods for Change contributing artists to assemble a creative output of their own – watch this space!
---
---