Supporting diversity in innovation and entrepreneurship
Back
Resources
12th November 2020
It is a known problem that the ecosystem of high growth start-ups and businesses perform poorly in terms of diversity and inclusion, whether that is representation among venture capital teams, board membership, founders or employees.
Following an Aspect Entrepreneurship Community of Practice workshop to discuss and share learnings in this area – organised by Leah Thompson, Senior Knowledge Exchange Officer, University of Oxford – this article (written by Wen Chen, LSE School of Public Policy) shares some of the key outputs from the session.
Funded Project:
Entrepreneurship Workshop Series & Mini- Projects
The seminal Alison Rose Review of Female Entrepreneurship found that fewer UK women choose to become entrepreneurs than best practice peer countries and women are less likely to pursue entrepreneurship at every stage of business. Moreover, perceived bias within the UK venture capital system has been noted in multiple studies, with less than 1% of UK venture funding going to all-female founder teams in 2018.
In addition, in the context of the Black Lives Matter movement, the continued underrepresentation of Black founders, start-up employees and investors has been thrust into the spotlight for the innovation and entrepreneurship ecosystem. A new report by Extend Ventures shows that over the last ten years, just 0.24 percent of venture capital went to teams of Black founders–38 businesses in total.
Moreover, an earlier survey by Extend Ventures indicated that nearly half of Black- and minority-led businesses in the UK do not plan to access or expect to qualify for COVID-19 government support schemes, suggesting substantial gaps or challenges in accessing support.
Since university is often a young person's first substantive exposure to entrepreneurship, Aspect member institutions serve a critical role in setting an example for creating a diverse and inclusive environment and supporting underrepresented students and researchers, with consideration of the specific challenges and needs of different groups.
Developing support for diversity in innovation and entrepreneurship
It is within this context that the Aspect Entrepreneurship Community of Practice led a knowledge sharing Q&A session to discuss and share learnings in this area. Aspect members University of Bristol and LSE shared how they have successfully adapted entrepreneurship programming to improve access to and participation of women founders. In addition, the Universities of Oxford and Sussex shared plans for new initiatives they plan to trial to increase diversity. We outline how they have been able to adapt their programming, and share related experiences and best practices from Aspect member institutions.
1. Conducting research to uncover barriers and motivations for diverse founders
With little growth in the percentage of women founders funded through Bristol's flagship start-up business plan competition in the past few years and with zero women founders funded in the 2018/19 academic year, the programming team decided to investigate the problem.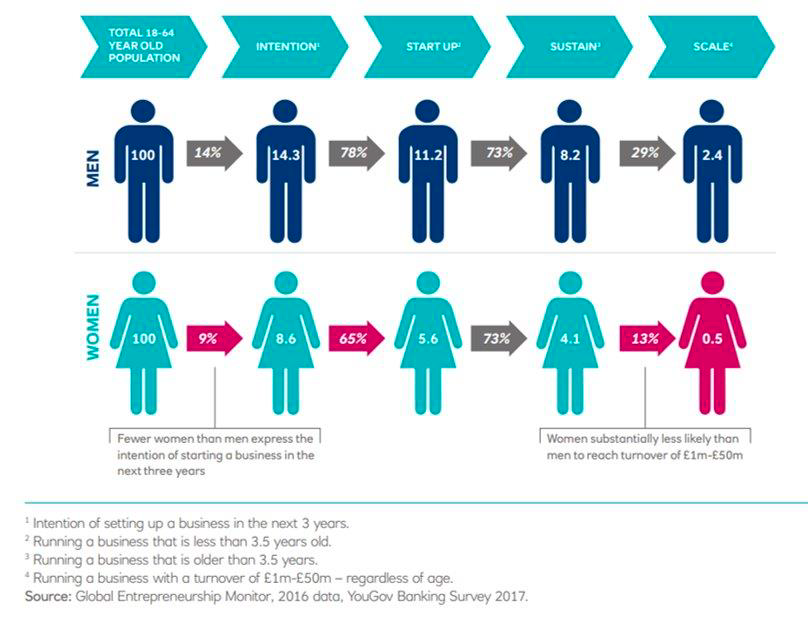 The first observation that became apparent from existing participant data is that while there is good gender parity at the ideas stage, women founders drop off sharply at later stages. Other Aspect member institutions at the Q&A agreed that they had a similar observation at their universities.
The Bristol team explored the problem further by conducting roundtable focus groups with a diverse mix of students, business founders and colleagues supporting entrepreneurship across the university in order to understand the barriers they faced when pursuing their start-up ideas and why they may not be seeking to embrace entrepreneurship. Analysis of the interviews showed that barriers and deterrents for prospective women entrepreneurs included language and terminology, risk averseness and confidence. Moreover, the motivation for participating in the competition went beyond funding—women entrepreneurs sought mentorship and access to networks including previous competition winners.

2. Providing more support ahead of the competition and modifying language and imagery
In response to the research findings, the Bristol team adapted the programme to include more support ahead of the competition. Rather than a pure business plan competition, the adapted programme starts with an expression of interest followed by a five-month support programme, wherein participants are paired with mentors, gain support from SETsquared Bristol's Advisers in Residence and participate in workshops. This process, then, culminates in business plan preparation and the competition.
The team adapted the language used through the process and created new imagery to use in programme branding and communications. Changes included using less competitive language and terminology (e.g. not "pitch") and using more imagery of women.
3. Diversifying representation among mentors and judges
Mentors serve as important role models for young entrepreneurs and it is important for diverse entrepreneurs to see representation in mentors and judges that reflect diversity and inclusion to help overcome barriers such as confidence and risk aversion.
LSE has noted that it takes engagement at even earlier stages in order to prime young minds to innovation and entrepreneurship. In addition to adhering to gender parity for its judging panels, one of the initiatives that they have launched is to enable women entrepreneurs to mentor students in secondary schools who then speak to primary school students to engender a role model trickle-down effect.
"The highest calibre of application i have seen in 10 years of judging this competition"

Judge, New Enterprise Competition (Source: University of Bristol)
4. Measurement, data collection and accountability
Lack of systematic data collection and measurement on diversity and inclusion hamper the ability for institutions to understand the state of play and how to move forward. Relatively speaking, more analysis has been conducted, and more data exists, on gender disparity compared to race and ethnicity.
Oxford University has started to collect gender-related statistics of research-led spinouts from the institution as part of an effort to create systematic changes to drive an increase in diversity with regards to entrepreneurial activity. The problem is not just representation among founders, but throughout the ecosystem—in board membership, in management, among start-up employees.
Students also increasingly expect institutions of higher learning to set an example and design actions plans towards addressing racial inequality. For example, the Sussex Innovation Centre at the University of Sussex launched a Diversity Action Plan in July, committing to actions including supporting Black founders through a new, targeted mentoring, coaching and consulting programme.
To be accountable to these plans and commitments, again setting the appropriate metrics and collecting the data systematically is critical to monitor and evaluate progress or lack thereof. To help with achieving accountability, LSE engaged with an alumna-founded venture, Genderscope, to develop a Gender Sensitive Code of Conduct tailored to the LSE entrepreneurship hub context. This code of conduct establishes clear and measurable, yet contextualised, commitments that are transparent and enables the LSE team to systematically refer back and evaluate their work.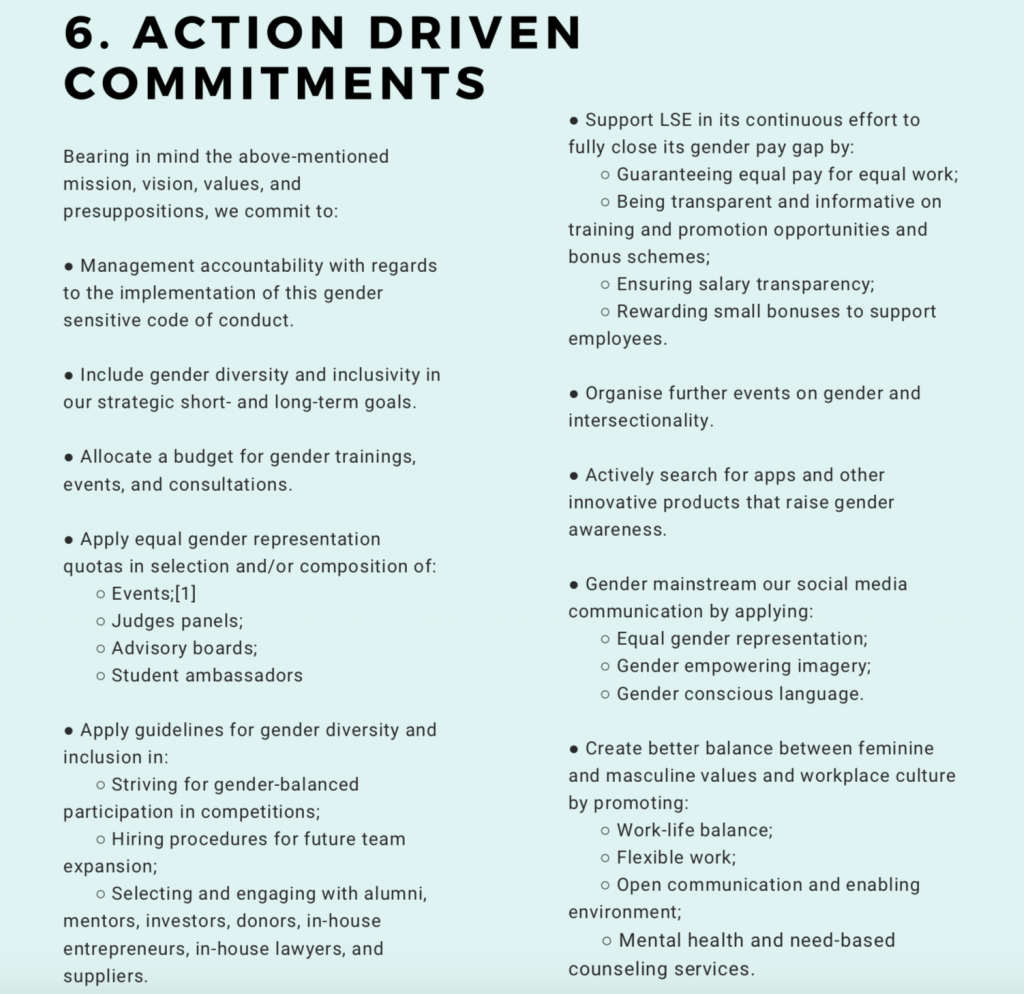 Recommendations
Through this Q&A session, we observe that most of the initiatives to increase support for diverse founders at Aspect member institutions have focused on addressing underrepresentation of women. At the same time, there is substantial variation in the degree of formalisation or systematisation of structure for developing such support from institution to institution. The experiences and best practices from approaches that institutions have already developed and evidenced in supporting women founders may be helpful for institutions developing plans towards increasing support for diverse founders, including addressing racial inequality and underrepresentation of prospective Black and minority founders.
From the 2018/19 to the 2019/20 academic year, the University of Bristol was able to improve the number of women entrepreneurs funded in their flagship start-up competition to seven out of 10 from zero. They were able to achieve this by modifying the programme based on findings from researching and investigating the barriers and deterrents for prospective women entrepreneurs and their motivations for participating in a start-up competition through conducting focus group discussions. However, through this process, the Bristol team has also learned the challenges around nuances and intersectionality when trying to support diverse entrepreneurs. When considering developing support for diverse entrepreneurs, Aspect member institutions offer the following recommendations:
Develop the case for the need to modify programming or create additional targeted programming – tracking basic demographic data (adhering to GDPR guidelines) on participants throughout different stages of programming and start-up competitions helps to bring to light problems of equity along the pipeline.
Listen to what your students need – conduct focus group discussions; apply user research.
Language and imagery can be tricky – it's challenging to be inclusive for all groups; be mindful of the potential to inadvertently exclude one group while striving to include another.
Transformational results can take time to materialise, especially as the ultimate goal is systematic change – that is to normalise diverse representation throughout the innovation and entrepreneurship ecosystem.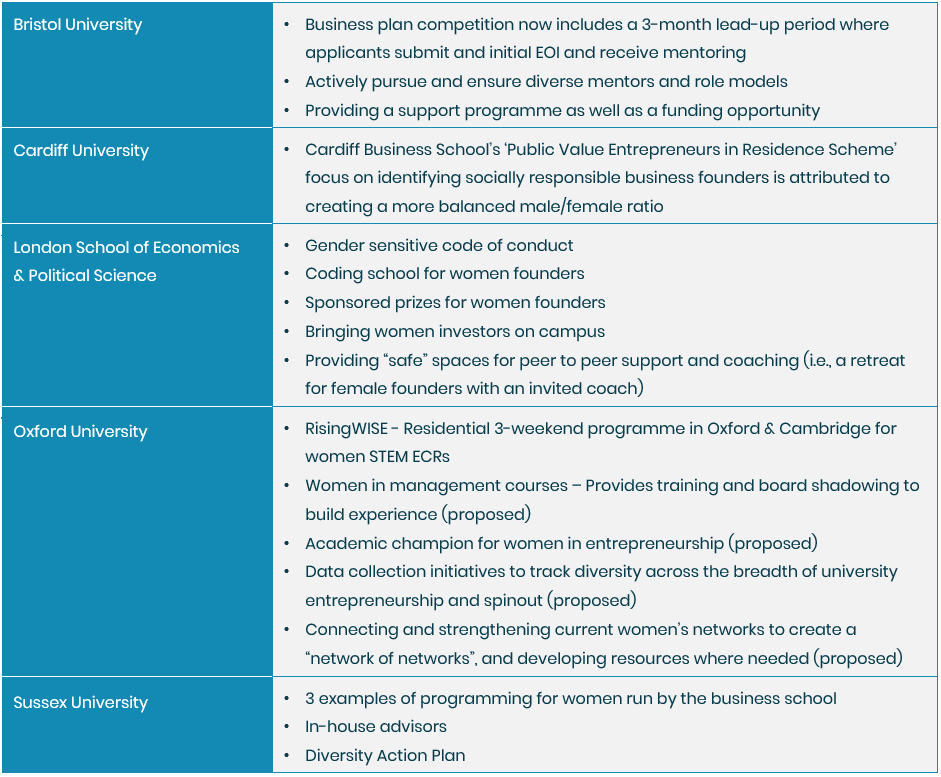 Remaining gaps
In addition to gaps in measurement and data collection and continued relative sparsity in programming targeted towards supporting Black and minority founders discussed above, there also remains gaps on understanding how to support other diverse entrepreneurs and innovators, such as LGBTQ+ and intersectional considerations.
Also, increasingly relevant for Aspect member institutions, with high enrolment of international students, is understanding how the concepts of and approaches required for diversity and inclusion may be different for international versus domestic students.
Finally, there is little to no tracking of what students or researchers go on to achieve following participation in university incubators or accelerators after they leave the university. Though this may fall outside of the scope what universities typically monitor, this information may offer insight into longer-term and systemic impacts of university initiatives in supporting diverse entrepreneurs and innovators.
Conclusion
Achieving diversity and inclusion is important for universities and for a healthy innovation and entrepreneurship ecosystem. Amid rising fervour against racial discrimination and calls for all sectors of society to create actions towards achieving anti-racism, diversity and inclusion is again in the spotlight. Universities have a momentous opportunity to harness this energy towards creating action plans and measurable commitments for systematic change and improvements in support for diverse entrepreneurs and innovators.
---