17th July 2020
The SUCCESS programme is helping social scientists transform innovative and marketable ideas into a business or social enterprise.
We spoke to Dr Amol Deshmukh – Research Associate at the University of Glasgow – about WallBo, his AI powered project that seeks to save lives through facilitating more effective handwashing, especially important in the context of COVID-19, and how he is benefitting from the SUCCESS programme.
Funded Project:
Aspect Research Commercialisation (ARC) Accelerator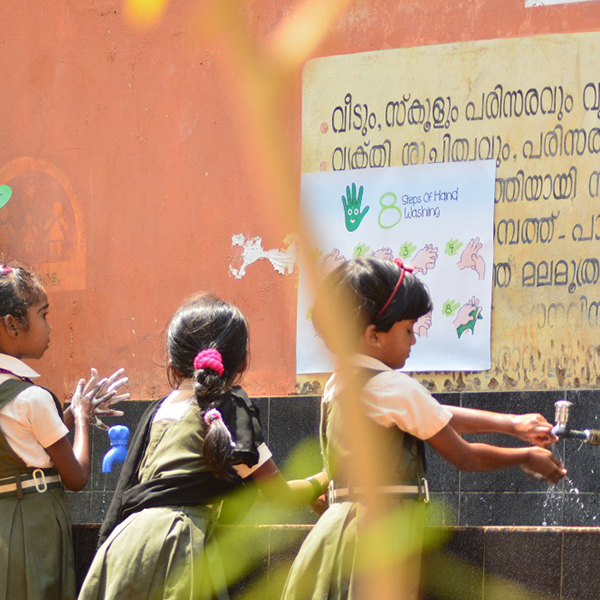 Q: What's the nature of your project and what are you looking to achieve?
Globally nearly half a million children die every year due to diarrhoea and respiratory diseases, yet handwashing with soap can prevent nearly 50% of these deaths. Less than half of UK school children don't wash their hands regularly mainly due to lack of interest and motivation. School authorities also have difficulty in teaching and monitoring hand hygiene compliance. Especially now with COVID-19, regular handwashing has become critical to reduce the spread of the virus from children to the most vulnerable populations. In order to start to tackle the global problem of handwashing, we have developed a wall-mounted social robot – "WallBo" a low-cost, easy-to-install robot near a handwashing station that can encourage, monitor and teach handwashing for children in Schools in a fun and engaging way using artificial intelligence. WallBo can help reduce germ transmission, reduce the spread of COVID-19, save healthcare costs and save lives. WallBo seeks to save children's lives in both developing and developed countries.
Q: What's your background and why did you decide to focus on this idea?
I am currently a Research Associate at the University of Glasgow in the Psychology department. I am a Roboticist and have a multidisciplinary background in electronics, computer science and psychology. I have pioneered human-robot interaction research in developing countries and my work has been highlighted by global media organisations. I have a deep passion to develop low-cost, high impact social robotics applications especially for underserved communities in the developing world. Handwashing is a big problem in developing countries and child mortality is high due to lack of good healthcare facilities especially for people living in remote areas. I started to work on the handwashing robot idea last year, our pilot trial in a rural school in India showed a 40% increase on hand hygiene compliance and now due to COVID-19 handwashing has become very important for everyone so we are looking to scale this idea globally.
Q: What are you hoping to get out of the SUCCESS programme?
The SUCESS programme has provided me with great insights on research commercialisation. All the mentors, speakers and Tech transfer officers have been excellent and I have learned a great deal from the bootcamp virtual sessions. It is also very helpful to get support and useful advice from mentors on your business idea and connections to people we can have conversations with. I am excited for the next stage; pitching my idea in events in September and the final pitching event in November. I look forward to developing WallBo further, potentially partnering with investors or stakeholders who are as invested in WallBo as I am!
Q: What has been the most useful part of the SUCCESS programme?

The SUCCESS program has provided an excellent platform not just to learn the business development side of things but also the opportunity to network and interact with excellent speakers/mentors and all the fabulous candidates from the cohort. The market research budget provided by SUCCESS programme will also help us to validate our business idea.
Q: What have you learned through the programme that you will bring back to your research?
I have learned many different perspectives and challenges about bringing ideas from lab/research environments into real world applications. Often as researchers we focus our attention on scientific goals and tend to overlook the real world impact we can potentially create with our ideas. The SUCCESS programme has given me the opportunity to translate my research into creating a sustainable, impactful business proposition. Also some useful perspective to think about when we frame our research ideas in the future.
Subscribe to the Aspect newsletter to receive regular news and insight from the programme.
---