28th April 2021
This 'how to' guide outlines the Mobile Visual Methods approach used by Jennie Middleton from the University of Oxford. The image was created in collaboration with Jack Brougham.
Social scientists from the Methods for Change project came together to discuss the research methods they use and how methods create change in society. Drawing from the expertise in the Aspect network, they collaborated on a series of 'how to' guides which are step-by-step instructions and top-tips for adopting these methods in a range of sectors. Visual and multisensory pieces, including comics, illustrations, posters, booklets, short films and animations were then developed in collaboration with creatives to capture the key value of these research methods with a view to being able to convey them to a variety of audiences.
It is hoped that these resources will be useful for people in higher education, commercial, public sector, third sector and community organisations who are interested in experimenting with, and expanding professional skills in, the adoption of social science research methods.
Funded Project:
Methods for Change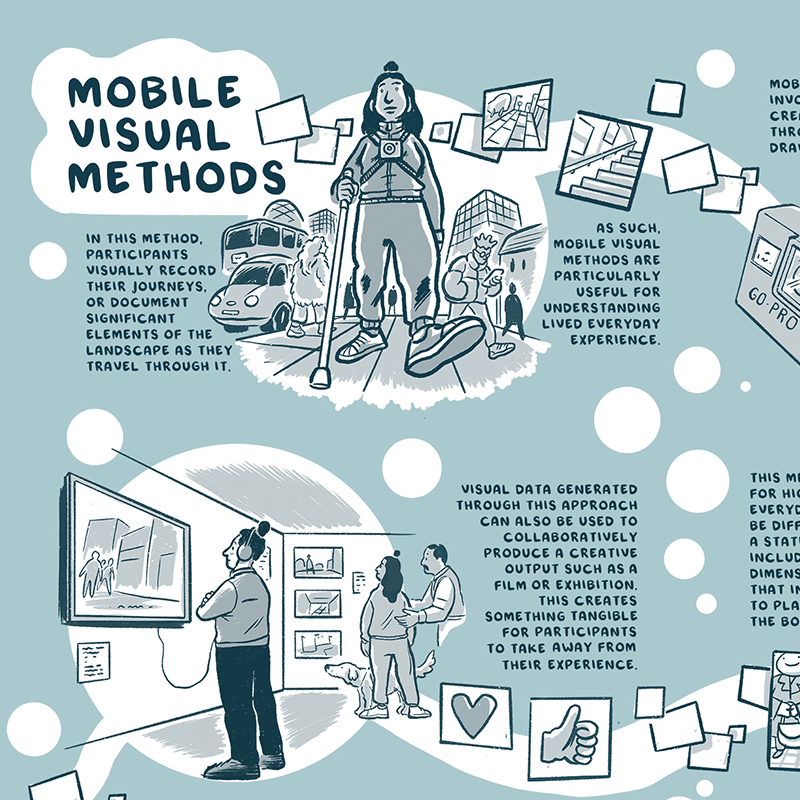 Research Method: Mobile Visual Methods
In this approach, participants visually record their journeys or document significant elements of the landscape as they travel or move around a place. As such, Mobile Visual Methods are particularly useful for understanding lived, everyday experience. Mobile Visual Methods often involve research participants creating visual data themselves, through photography, film, drawing or map making.
They can also involve the researcher accompanying participants with a camera or other technologies as they move in or through a particular space, such as a city, a transport network, or institutional setting. The data produced is then used as a prompt for subsequent discussion. This approach can therefore be a powerful tool for highlighting elements of everyday mobility that may be difficult to access in a static interview, including 'embodied' dimensions – the ways that individuals experience and relate to places through the body. Visual data generated through this approach can also be used to collaboratively produce a creative output such as a film or exhibition, and therefore to create something tangible that gives participants a sense of ownership and achievement.
You can find all the research outputs from the Methods for Change series here
---
---