Methods for Change
Impactful social science methodologies for 21st century problems 
Social scientists are developing methodologies that are useful beyond academia. Methods for Change plans to develop an online platform to showcase the value of social sciences methodologies to the wider world and demonstrate to industry the benefits that social sciences research can bring to their organisations.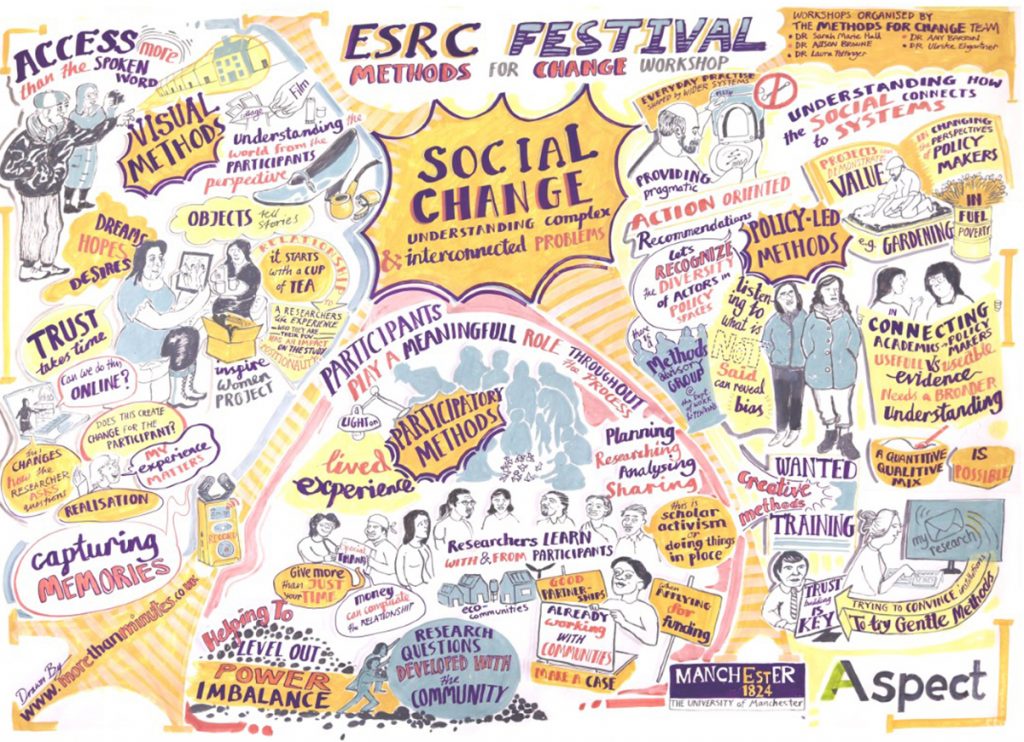 Reflecting on already existing research methodologies within the School of Environment, Education and Development (SEED) at the University of Manchester and allied researchers at partner institutions (Bristol, Cardiff, Glasgow, Oxford, Sheffield, Sussex and York), the Methods for Change team held conversations with social scientists from Universities from across the UK, to establish the characteristics and possibilities afforded by the methodological approaches they use, if applied by/within organisations such as businesses, third sector organisations and government departments.
These conversations served as the basis for the facilitation of collaborations between academics and artists/ designers, with the aim to distil key elements of 30 research methods and present them in novel, thought provoking or creative ways to reach a range of different audiences beyond academia. The pieces produced come in a variety of formats including comic illustrations, posters, zines, short films and animations and communicate methods through visual, sensory and physical elements. These will be accompanied by accessible, jargon free written 'how to' guide about the methodological approach, with step-by-step instructions and top tips for carrying out the method.