25th March 2021
This 'how to' guide outlines the gentle methodologies research method used by Laura Pottinger from the University of Manchester. The film was created in collaboration with Stephen Miller, the printed manifesto by Nell Smith and graphic design from Samuel de Tomasi.
Social scientists from the Methods for Change project came together to discuss the research methods they use and how methods create change in society. Drawing from the expertise in the Aspect network, they collaborated on a series of 'how to' guides which are step-by-step instructions and top-tips for adopting these methods in a range of sectors. Visual and multisensory pieces, including comics, illustrations, posters, booklets, short films and animations were then developed in collaboration with creatives to capture the key value of these research methods with a view to being able to convey them to a variety of audiences.
It is hoped that these resources will be useful for people in higher education, commercial, public sector, third sector and community organisations who are interested in experimenting with, and expanding professional skills in, the adoption of social science research methods.
Categories:
Methods for Change, Project Output, The University of Manchester and Video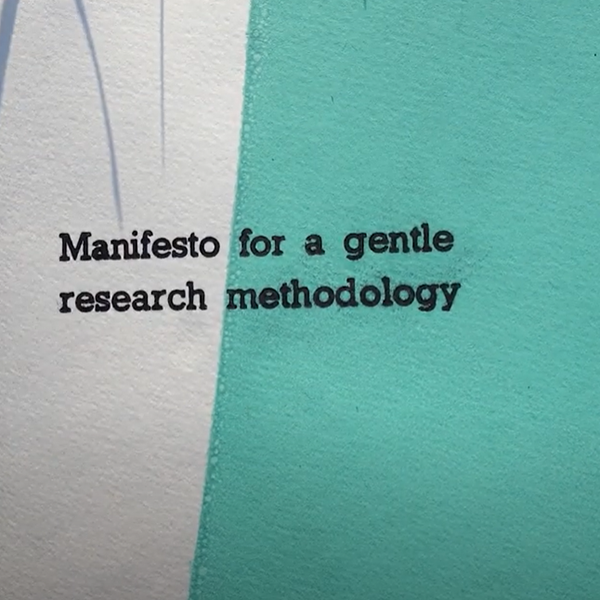 Research Method: Gentle Methodologies
A Gentle Methodology offers an approach for designing research that is sensitive, collaborative, and careful, and which can attune to small-scale, mundane and non-verbal detail. Gentleness is understood as a particular orientation towards participants, materials and oneself in planning, carrying out and representing research with individuals, groups and environments. It can be useful to think about Gentle Methodologies as bringing together three key components: 1) the body; 2) pace; and 3) sharing.

As a methodology (rather than a method) this approach offers a particular way of thinking about or framing participatory and ethnographic research. Gentle Methodologies can therefore bring together an array of different methods. These are often focused on doing activities (which will vary depending on the research context) together with participants, over an extended timeframe where possible. Gentle Methodologies have an ethical commitment to treating research participants, places and materials with care, minimising disruption, and contributing in a meaningful way to the objectives and priorities of those involved in the research. They are particularly useful for shedding light on lived experience and subtle detail, and for understanding what is important to people in their everyday lives.
You can find all the research outputs from the Methods for Change series here
---
---