3rd June 2021
This 'how to' guide outlines the Change Points Toolkit: A method to design interventions that unlock sustainable practices developed by Claire Hoolohan and Ali Browne from The University of Manchester, Matt Watson from the University of Sheffield and the wider Change Points team. The films were created in collaboration with Chris Murray, More Than Minutes.
Social scientists from the Methods for Change project came together to discuss the research methods they use and how methods create change in society. Drawing from the expertise in the Aspect network, they collaborated on a series of 'how to' guides which are step-by-step instructions and top-tips for adopting these methods in a range of sectors. Visual and multisensory pieces, including comics, illustrations, posters, booklets, short films and animations were then developed in collaboration with creatives to capture the key value of these research methods with a view to being able to convey them to a variety of audiences.
It is hoped that these resources will be useful for people in higher education, commercial, public sector, third sector and community organisations who are interested in experimenting with, and expanding professional skills in, the adoption of social science research methods.
Funded Project:
Methods for Change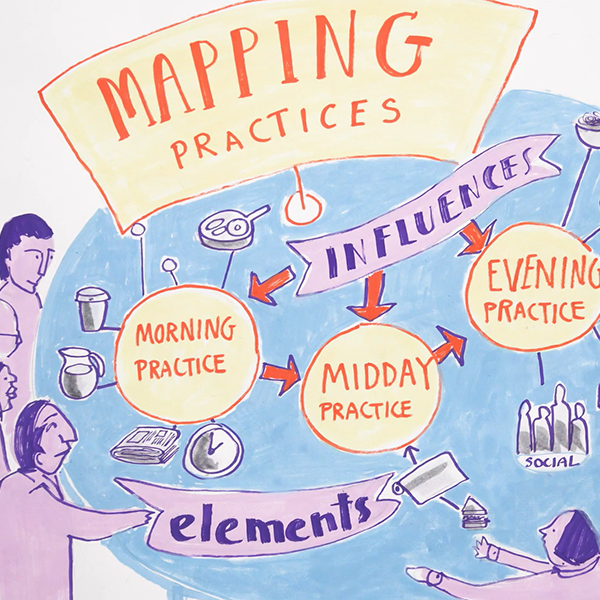 Research Method: The Change Points Toolkit
Change Points is a workshop process that enables participants without prior social science training to develop creative sustainability interventions that use ideas from social practice theories. Rather than focussing on individual behaviours or technological innovations, Change Points aids workshop participants to explore forms of intervention that engage with the social and material dimensions of everyday life.
The Change Points approach and workshop methodology was developed with a range of government, NGO and business stakeholders in order to assist them in bringing social practice theories to their analysis of sustainability challenges. It aids the reimagination of complex social and environmental challenges, and enables the recognition of how diverse everyday practices relate to wider social, cultural, infrastructural and environmental conditions. The toolkit was created to offer a new way of thinking through patterns of consumption, how they emerge, and how they may be changed. As a workshop process, Change Points is deliberately provocative. Participants work through a co-design process that questions the assumptions that underpin existing strategies to encourage sustainable consumption. Change Points invokes conversations that enable participants to extend the breadth of research, strategy and intervention design. This approach is useful for any organisation that deals with social and environmental challenges that intersect with everyday practices and behaviours. The workshops work best when they include participants from diverse disciplinary backgrounds and sectors, including government departments, NGOs, activist groups and the general public.
---
---