12th October 2019
Join the greatest thinkers and innovators from across academia and industry to explore how social science research is driving innovation.
Organiser:
Aspect
Location:
Manchester

Date:
21 November 2019

Time:
09:30 – 16:30
Find out more
Categories: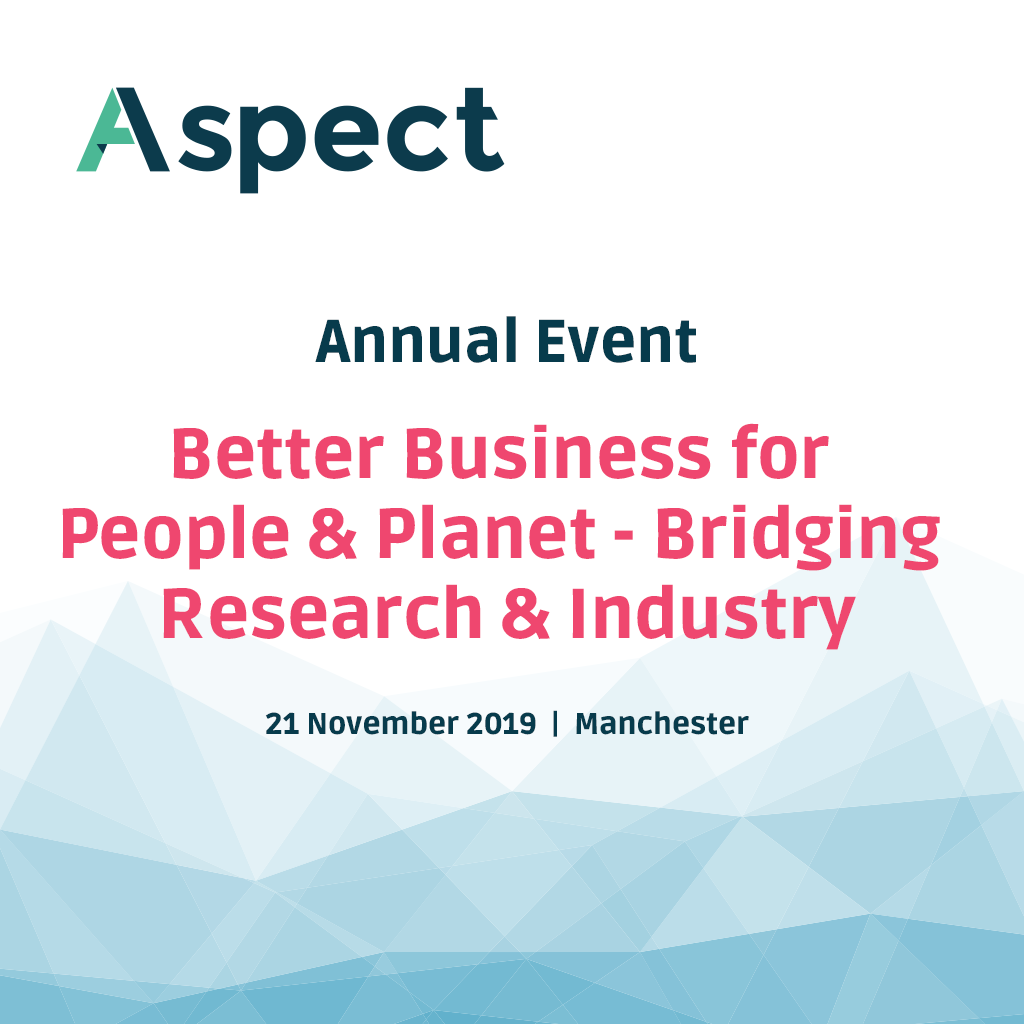 Find out more
About this Event
With economic, societal and environmental emergencies making headlines across the globe daily, consumers are demanding businesses adapt and change.
With a responsibility to tackle the greatest challenges of our time, the Aspect Network seeks to bridge the gap between leading social science research and business innovation.
At this event we will hear from those sitting at the epicentre of discovery, imagination and progress in the social sciences. 
What will you get out of the day?
An opportunity to hear how social sciences academics and business are collaborating to address the global challenge of sustainability.
This includes case studies and examples of how:
– Social sciences can bring expertise to business that other R&D subjects lack
– Industry can benefit social scientists
– Social sciences is relevant to industry (and beyond)
The chance to network with academics, businesses, funders, university support staff and commercialisation professionals to share learning and create new connections.
The opportunity to network with relevant businesses, academics and practitioners to establish funded collaborations.
Please note the main event ends at 4pm but there will be additional networking opportunities and drinks from 4-6pm.
Agenda
9:30-10am – Arrival and registration
10-10:45am – Opening Plenary: Mobilising Social Sciences to Drive Innovation
Summary: Learn how Aspect is providing opportunities for social sciences to be used in the private sector, and what social sciences can gain from collaborating with industry. This will include insights from Julia Black and Colette Fagan followed by a Q&A session.
Speakers: Julia Black (LSE & UKRI board), Colette Fagan (Manchester University's Vice-president for Research) , Andrew James (Associate Dean for Business Engagement & External Relations, University of Manchester)
10:45-11:10 am – Break with refreshments and time to network.
11:10 -12:30 pm – Panel Debate: Purpose in Practice
Summary: Hear from industry leaders on innovations that have made a real difference to not only their business, but also to people and the planet.
Panellists: Thomas Bouvier(Soaper Duper), John Pritchard (Pala Eyewear) and Duncan Gray (Brodie), Teresa Hitchcock (UK Safety Health & Environment team).
Chair: Director of Global Strategy , Zero Waste Europe
12:30-1 pm – 1st Keynote speaker
Helen Taylor – (of Ecotricity and Forest Green Rovers) will be talking about novel insights into 'sustainability disruption' in the clean energy market and professional football. Helen's presentation will trace the 'green entrepreneurial' journey of the clean energy company Ecotricity and their sister company Forest Green Rovers Football Club.
1-2 pm – Lunch + networking
2-3 pm – Breakout sessions:
Academic and business collaborations in practice: This breakout session will feature academics and business partners from the universities of Cardiff, Glasgow and Oxford speaking on how collaboration between the private sector and academia has been mutually beneficial in translating research into real-world impact.
Panellists: Adam Saunders is Research Fellow at the Centre on Skills, Knowledge and Organisational Performance at the Department of Education at Oxford, which undertakes research into develop the skills of the workforce for the future economy. Adam is currently working with an interdisciplinary team led by John Armour at Oxford, alongside a group of business collaborators including Slaughter & May, Allen & Overy, Thomson Reuters and start-up LexSnap on an ESRC-funded project on how the legal services can exploit and adapt artificial intelligence technologies. Dr.
Natalie Welden is a lecturer in Environmental Science and Sustainability in the School of Interdisciplinary Studies at the University of Glasgow. Natalie is an expert in microplastics and focuses her work on marine and agriculture environments. Among her current list of ambitious projects is SOPaS (Stopping Ocean Plastics at Source). This project, led by Inheriting Earth Ltd. in partnership with Beko Plc and JNDC Ltd., seeks to reduce the flow of textile derived microfibers between our washing machines and the domestic environment.
Sally Good is the Chief Operating Officer of Evidence to Impact, a social sciences spinout from the universities of Bristol and Cardiff. Sally has taken the company's main product from its initial application in NHS Trusts through to its international delivery.
What does scaling up social science mean? – Explore what opportunities there are to make social science impact sustainable beyond the funding end date.
Panellists: Joanne Tippet – Lecturer in Spacial Planning in the School of Environment and Development at the University of Manchester. She has launched 'Ketso' as a social business and her work was short-listed for the UK Sustainable Development Commission's Breakthrough Ideas of the 21st Century.
Bruce Etherington – Impact manager at the University of Cardiff. He manages funding schemes and associated activities to increase the impact of Social Science Research.
Chaired by: Mel Knetsch (Deputy Director of Impact and Innovation at ESRC)
3-3:30 pm – Break with refreshments and time to network.
3:30-4 pm – 2nd Keynote speaker
Jeremy Kent Hall – Director for SPRU (Science Policy Research Unit at the University of Sussex). His talk is titled "Emerging Challenges and Unintended Consequences of Innovation: The 'Eroom' Effect and Borlaug's Paradox". He has a background in the social impacts and unanticipated outcomes of innovation and entrepreneurship, sustainable supply chains, social inclusion, strategies for sustainable development innovation and responsible management.
The Q&A and closing remarks will be chaired by Julia Black.
4-6pm – Networking & drinks reception
---
Get involved
Find out how the Aspect network can support you
Get Involved
Aspect case studies
Discover how social sciences research is transforming society
Case Studies